From Sept 2002
'Aside from private commissions, the last decade has seen only a handful of paintings by Ronnie Copas on public display. However, his association with the Portal Gallery, Dover Street, Piccadilly, for over a quarter of a century, has encouraged a celebratory exhibition of twenty new paintings and a selection of drawings.

Titled 'Depths of Light', Copas exploits an eclectic mix of subjects culled from his days as a boatman on St Michael's Mount, his sketching trips in Spain and Greece, and drawn from the works of William Shakespeare and Dylan Thomas's 'Under Milkwood'.

The paintings explore the inner depths of sunshine, shadow and reflected light in deepest shade.
From candlelit Cardinals to fishermen 'lamping' in the Mediterranean night, Copas offers a closely observed slice of life served up in the grand manner.

Recognized for his 'blonde' egg tempera paintings on gesso panel, the artist has chosen for this show, a carefully researched Van Eyck technique of resin oil over a meticulous underpainting, which, with glazes and scumbling, can achieve depths of colour and light otherwise unobtainable.'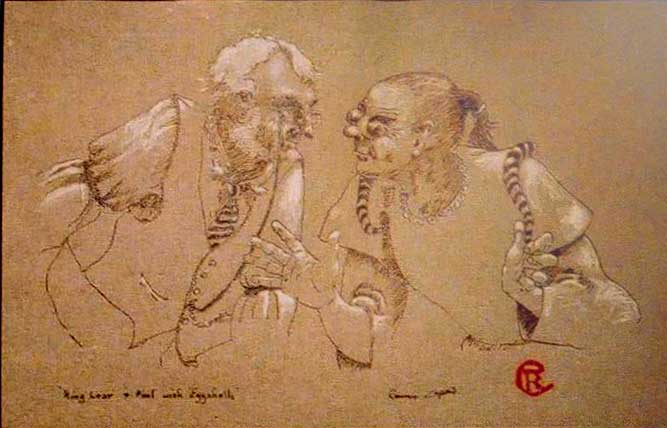 Example of first stage of underpainting on King Lear